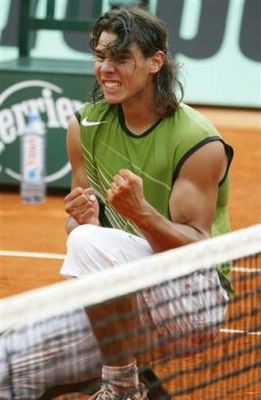 Explaining his upcoming transition to grass courts and Wimbolden after his 24 straight victories on clay the past few weeks,'"
I like a lot play in grass
,'' Na.dal said in his fractured English.'
Sweet Cheeks, lots of us do. Lots of us would with you, too.
Probably my g'ma would, too. She used to sing...
Roll me over in the clover
Do it again...
which I just learned is actually
this
(and
this
and
this
), mentioning thighs, sticks, inches, and shoving...
in that charming old fashioned way.

Remember
G'ma
was the proprietor of a tourist town bar for 40 years.
Too bad Sweet Thang Na.dal would be underaged.